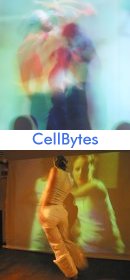 Creative User explores the role of the public/audience as a creative participant within interactive digital art, addressing one of the key concerns for practitioners in this field: how to engage the public in processes of interaction and creation.
This research and documentation initiative of Future Physical, a performance media company for body-technologies, investigates audience responses to and engagement with interactive forms, finding out what users want and need from the experience.
Functioning as an information agent for the field, Creative User provides research and analysis on the user experience of interactive digital art.
Profiles provides information on Case Studies exploring creative public interaction within installation, performance and exhibition environments

Databank contains developer reports, user transcripts, video documentary and user profile data on the case studies and is a members only section

Visit Downloads to order the Creative User Report and DVD publication and download User Analysis